United Teachers
of
Island Trees
Serving the community for over 45 years.
_____________________________________________________________________________________________________________________________________________________________________________________________________________________________________________________________________________________________________________________________________________________________________________________________________________________________________________________________________________________________________________________________________________________________________________________________________________________________________________________________________________________________________________________________________________________________________________________________________________________________________________________________________________________________________________________________

*****************************************************************************
Union Dues are Tax Deductible:
Full Time Employees may deduct $975.00
for the 2014 Tax Year
~~~~~~~~~~~~~~~~~~~~~~~~~~~~~~~~~~~~~~~~
April 1,2015
Today teachers, parents, and students across New York State were dealt a most serious blow with the adoption of Cuomo's budget. Tied to the budget is legislation that further robs communities of local control of schools and erodes educational fairness by dramatically increasing the weight of test scores to be used for APPR purposes.

Make no mistake, the reforms proposed by Governor Cuomo and adopted by the Legislature will have a profound and dire effect on the classrooms we work in and on the communities we live in.

As citizens, we must do anything and everything allowed by law to oppose and reject reforms that are designed to weaken our schools and harm our children.

At this time, our most important and immediate recourse is to opt our children out of state tests later this month. We must refuse that our children be used by the governor as pawns in a political game. The tests have no meaningful value in helping our children educationally. These tests, instead, are a political tool to create so-called "data" to be used solely for the purpose of deeming schools, principals and teachers ineffective.

This is not a time to give up or give in. We must continue to speak truth to power and fight this injustice. If there was ever a time when we need to stand together, that time is now.

More to follow…

In solidarity,

The WITA Executive Board
____________________________________________________________________________
Below are highlights of the 2015-16 State Budget:
Education: The Great Equalizer
Education Transformation Act of 2015
New York's education system is set to implement some of its most dramatic and fundamental reforms in years through the Education Transformation Act. The budget includes the governor's proposal for an increase of $1.3 billion in state education support to take education funding to its highest level ever - $23.5 billion.
The components of the transformation are as follows:
Best and Brightest Recruitment: To attract the best and brightest to the teaching field, the budget provides funding for a new full scholarship program for SUNY/CUNY for top students who commit to teach in New York for five years.
Graduate Education Program Accreditation: The first statewide, uniform admissions standards for teacher preparation programs will be established, and SED will have enhanced authority to close programs that fail to prepare students for the teaching profession.
Teacher "Bar" Exam / CTE: The state currently requires teachers to pass a teacher "bar" exam - and will now also require teachers to complete 100 hours of continuing education and recertify every five years or lose their licenses.
Teacher Evaluation System: A redesigned teacher evaluation system will be established whereby educators are rated in two categories: student performance and teacher observations.
•Student Performance - Districts will use a standardized state measure, or may choose to use a state-designed supplemental assessment.
If a teacher receives an Ineffective rating in the state measure subcomponent, the teacher cannot be rated "Effective" or "Highly Effective" overall.
If a local district chooses to use a state-designed supplemental assessment and the teacher is "Ineffective" when both subcomponents are combined, the teacher must be rated "Ineffective" overall.
The state allocates weights for this category and its subcomponents.
•Teacher Observations - This category must contain two subcomponents: principal observations and independent observations. Peer observations may be included at the discretion of the commissioner.
If a teacher receives an "Ineffective" rating in the teacher observation category, the teacher cannot be rated "Effective" or "Highly Effective" overall.
The state allocates weights for this category and its subcomponents.
Additional information to note: Teachers will be evaluated based on a four-point scale. In regulations, the commissioner shall set scoring bands, cut scores and weights. The commissioner must have the system put in place by June 30. Local districts must put evaluations in place by Nov. 15 in order to be eligible for increased aid.
Reduce Student Testing: The chancellor of the Board of Regents will outline to the governor and Legislature recommendations by June 1 on how to decrease the overall amount of state and local testing, improve test quality, and reduce test-related stress and anxiety.
Tenure = Performance: The Education Transformation Act of 2015 reforms tenure so that it is based on performance and is not simply a function of time.
•The probationary period will be extended to a minimum of four years with no automatic right to tenure at any point.
•A teacher will have to be rated "Effective" or "Highly Effective" in at least three of four years to be eligible to receive tenure. If a teacher does not meet this threshold, he or she can be terminated or the district may extend the probationary period.
Bonuses and Promotions: A bonus of up to $20,000 will be provided to teachers who are top performers, and promotion opportunities will be tied to the evaluation system.
Teacher Removal:
•For "Ineffective" teachers: Statewide, all hearings will be heard before a single officer rather than a panel. Local districts will be able to use new expedited removal proceedings for teachers with two consecutive "Ineffective" ratings, and will be required to do so for teachers with three consecutive Ineffective ratings.
________________________________________________________________________
March 31, 2015
NYSUT rejects Cuomo's teacher evaluation sham
Source: NYSUT Media Relations
ALBANY, N.Y. March 31, 2015 — New York State United Teachers today said changes to the teacher evaluation and tenure laws contained in the state budget are a disgrace.
"The teacher evaluation system imposed by Governor Cuomo is a sham, and he now owns it. From the beginning, the state of New York has witnessed a vengeful governor refusing to engage in honest dialogue about the quality of our public schools, or how to improve teaching and learning. Governor Cuomo is so enamored with hedge fund money that he has refused to consider the educational research; listen to educational professionals; or acknowledge the concerns of tens of thousands of parents who are so angry about his testing madness, they are protecting their children by opting them out of state exams.
"Let's be absolutely clear: NYSUT rejects this evaluation system. It is an unworkable, convoluted plan that undermines local control, disrespects principals and school administrators, guts collective bargaining and further feeds the testing beast. It does nothing to help students and will do nothing to foster the professional dialogue and collaboration that is essential to helping New York's already strong teaching force become stronger. Ironically, this will only make it harder for school districts in impoverished communities to attract and retain the excellent teachers that students need and deserve."
New York State United Teachers is a statewide union with more than 600,000 members in education, human services and health care. NYSUT is affiliated with the American Federation of Teachers, the National Education Association and the AFL-CIO.
~~~~~~~~~~~~~~~~~~~~~~~~~~~~~~~~~~~~~~~~~~~~~~~~~~~~~
Save the Date: UTIT End of Year Party June 11th!
~~~~~~~~~~~~~~~~~~~~~~~~~~~~~~~~~~~~~~~~~
Take Action

13 things you can do right now to fight back.
---
Every NYSUT member is needed to defend public education and the teaching profession from Gov. Cuomo's Billionaires' Agenda.
Tell the governor to stop scapegoating... stop teacher bashing and focus on what #AllKidsNeed.
Here's your to-do list.
1. Take action on this week's campaigns.
The latest actions will always be right here in the No. 1 spot.
UPDATE: Feb. 12
2. Call your state senator. Now.
Stop what you're doing and call your state senator with this message: stand up to the Governor's "Bigfoot" tactics and defend our outstanding New York public schools!
You can look up the number at the NYSUT Member Action Center.
Sign up for MAC text alerts!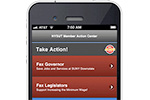 Take 10 seconds and sign up for MAC text alerts on your phone!
Here's how:
STEP 1: Text the word "NYSUT" to the contact number 38470.
STEP 2: That's it! There is no Step 2!
3. Sign the petitions.
4. Sign up for the in-district lobby day on Feb. 12.
Take part in a face-to-face meeting at your state legislator's local office.
For information, email pcaruso@nysutmail.org. Please include the number of your Senate district. (Not sure? Look it up at the MAC.)
5. Call out the governor.
Invite the governor to visit your class to learn what #AllKidsNeed. Tweet out an invite directly at him and be sure to include his Twitter handle @NYGovCuomo and the hashtag #InviteCuomo if you want your tweet to be seen and heard.
Not on Twitter? See step 8.
6. Get connected to the MAC.
BY TEXT. Get real-time text messages about urgent news and actions by texting the word NYSUT to the number 38470.
BY EMAIL. Subscribe to the NYSUT Member Action Center email alerts for updates on this campaign. If you're registered via email as a NYSUT MAC e-activist you'll also be the first to know about upcoming rallies, protests and more.
BY APP. Download the NYSUT MAC App for your iPhone or for your Android phone. Be sure notifications are enabled to receive alerts on new action items.
7. Get connected on Facebook.
8. Get connected on Twitter.
Join Twitter and follow @NYSUT to be part of the social media army.
Once a day (or as often as possible) tweet your thoughts on what #AllKidsNeed - more science labs, music and art classes, school libraries, smaller class sizes and more. We're reminding the governor to focus on what matters! Follow the conversation in real-time for some great examples from parents and educators.
9. Share the poster.
10. Wear the button.
11. Take part in community forums.
Keep an eye on nysut.org/allkidsneed for information on upcoming NYSUT-sponsored Community Forums to Save Public Education in every region of the state.
12. Talk it up.
Get the conversation going - online and offline. Read "Where We Stand" and use it to craft social media messages, send letters to the editor, and brief friends and colleagues.
Circulate and share print materials and videos.
13. Support "Take Action Tuesday."
Mark your calendar to support NYSUT's "Take Action Tuesday" every week. Be on the lookout for updates.
And finally... check back.
Check back for frequent updates!
~~~~~~~~~~~~~~~~~~~~~~~~~~~~~~~~~~~~~~~~~~~~~~~~~~~~~
NYSUT Blisters Cuomo's Draconian Anti-Teacher Agenda
Author: Sylvia Saunders
Source: NYSUT United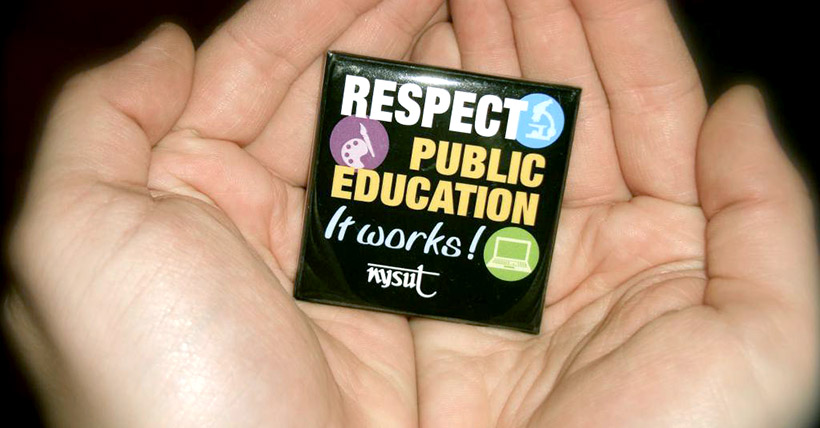 Caption: Sarah Mattice of Schalmont Teachers Association posted this photo in her Twitter feed, saying the "power" is in our hands.
NYSUT President Karen E. Magee minced no words when talking to reporters about Gov. Andrew Cuomo's vicious assault on public education and the teaching profession.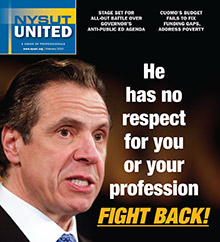 State Budget 2015
"He has declared war on the public schools," Magee told The New York Times. "I'll be happy to stand with the teachers, the students and the parents if the governor wants to have a war ... I'm more than confident we will win."
Before the governor even finished delivering his 90-minute speech, the Twitter universe was burning up, under the hashtag #AllKidsNeed.
"If Cuomo cared about what #AllKidsNeed, he would not be raising the stakes on Common Core exams," tweeted one.
Numerous media outlets noted how quickly and vehemently educators struck back via social media to what is considered the worst attack on educators and public schools in the state's modern history.
___________________________________________________________
For NYSUT Member Benefit Information visit the link below:
Visit: http://www.nysut.org/memberbenefits/mbRedirect.html

******************************************************************
See Tech Tips Page for info and tips on Google Docs!
**************************************************
On-Line Resources from TeAchnology:
How to Study
Help students learn to study well. We offer a number of great resources.
Graphic Organizers
Great printable graphic organizers for all subjects and grade levels!
Teacher Resources